COVID-19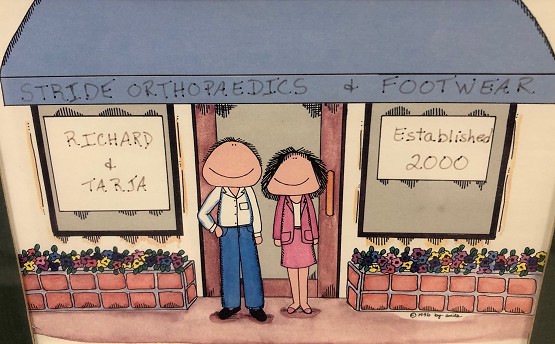 Hello Thunder Bay & NW Ontario,
Tarja and Richard here, wanting to give you an update on how we are dealing with COVID-19.
As we have stated in previous posts, our retail component is closed to the public, in order to reduce exposure and promote social distancing. On Tuesday, we made the very difficult decision to put our staff on temporary lay-off; something we have never done in our 20 years of operations. This was done to protect them and their families, as we deal with this ever changing situation.
We do however recognize that being physically active is an amazing stress reliever, and want to do everything we can to promote health.
With that said, we would like to offer up the following:
Stride Footwear
If you are a health care provider, currently working to keep our community safe; If you are in food service, and still working to feed our community; If you are in postal, parcel delivery or trucking and working to keep the shelves full - we want to help you.
If you know your style and size (or are already in our system) we will deliver your footwear if we have it in stock - or ship it within the region - at no charge to you. Call it "White (surgical) Glove Service". Keep in mind, we are working with the inventory we currently have, and there will be no returns (for safety precautions). This goes for refills on compression stockings or other over-the-counter devices like insoles.
You can DM us or call the Clinic at 344-9608 (or in the region call toll free 1-866-344-9608).
Stride Orthopaedics
Tarja and Richard are still in the office, tying up loose ends and addressing your needs. We have chosen to triage our most vulnerable patients – those with active ulcers, at-risk for development of complications due to systemic disease, or those needing to have their devices dispensed to ensure you are able to keep things moving.
If you would like to have your devices dispensed, we are offering car-side-service. We will come out to your vehicle and grab your footwear. We will trim and shape your devices, all while you wait in your vehicle. As well, we can do the same for special ordered footwear that may have arrived during this time.
If you would like to set up a virtual appointment, utilizing FaceTime, we can arrange for this as well. There are often simple adjustments to lacing, activities, and range of motion that we can suggest.
We are doing our best to help you, especially those that are required to report for work during these trying times.
Yours in health,

Richard and Tarja